Greetings! Flowers and trees are in bloom producing a visual paradise of colors. With it comes the wave of pollen. Spring is kicking into gear! We are enjoying the outdoors more. As a reminder, for those who suffer from allergies, it is time to start your daily antihistamine. You may also need an allergy nose spray and allergy eye drops. If you are unsure if you are suffering from allergies, please give us a call.
COVID UPDATES:
1)The data regarding the Johnson and Johnson vaccine and its relation to causing certain blood clots in women was reviewed by FDA, ACIP (Advisory Committee on Immunization Practices) and the CDC. The risk of blood clots is extremely low. This adverse event is rare, occurring at a rate of about 7 per 1 million vaccinated women between 18 and 49 years old. For women 50 years and older, and men of all ages, this adverse event is even more rare. After temporarily being removed from the market, it has now been returned as a vaccine option. Read more:
CDC Recommends Use of Johnson&Johnson/Janssen COVID-19 Vaccine
FDA press announcements: FDA and CDC lift recommended pause of the Johnson&Johnson/Janssen COVID-19 vaccine use
2) We are so excited that many teenagers 16 years and older in our practice have gotten the Pfizer vaccine. If your teen has received the vaccine, please submit a copy of the vaccine card provided by the administrator of the vaccine. We will input it into your child's chart to become part of the electronic medical record.
3) You may have heard the news!! The FDA has approved the Pfizer vaccine for use in 12-to-15 year old children. We are so excited. The vaccine has been proven to be very effective in preventing COVID disease. It is very important that we all, adults and children, get vaccinated. COVID illness is not necessarily benign in children as initially shown. It can have consequences in children, including myocarditis, MIS-C and long-hauler symptoms (see below.)
COVID-19 Infection Long Term Effects
Yale New Haven Health COVID-19 Vaccine 12-15 year olds Frequently Asked Questions
We are in the process of being approved by the state to be a vaccine administration site. Once approved, your child will be able to get the COVID vaccine from us. We will send out an email and post on our website as to when you will be able to schedule for a spot in the COVID VACCINE CLINIC. This will be one more step we can take as a community out of the darkness into the light.
FDA press announcements: FDA authorizes Pfizer-Biontech COVID-19 vaccine emergency use
**At present, there have been reports of a few number of young men 16 years to 25 years who developed myocarditis within 4 days of their COVID vaccine. The cases of inflammation of the heart are mild and temporary. The CDC is aware and investigating to see if there is a correlation. They have NOT paused administration of the vaccine. We still encourage everyone 12 years and older to get the COVID vaccine. If they do develop any severe chest pain up to 4 days after the vaccine administration, please contact us or go to the Emergency Room.**
4) Many families have already volunteered their children to be part of COVID vaccine studies. It is wonderful to know that these families already believed in the safety of COVID vaccine and the importance of this data. With this information, the vaccine has been approved for all 12-to-15 year old children. There are studies already underway for children aged 6 months to 11 years for both the Moderna and Pfizer vaccines. Yale has been chosen as one of the study sites for the Moderna vaccine. If you are interested, please read the following fliers:
Yale Moderna Vaccine Study Participation Overview
Moderna Kid Cove Vaccine Study Overview
Please direct any questions to Inci Yildrim, MD, PhD, MSc at inci.yildirim@yale.edu.


5) There are benefits to being vaccinated! It is one more step in a responsible return to normalcy. The CDC considers people are fully vaccinated:
2 weeks after their second dose in a 2-dose series, such as the Pfizer or Moderna vaccines, or
2 weeks after a single-dose vaccine, such as Johnson & Johnson's Janssen vaccine
If you don't meet these requirements, you are NOT fully vaccinated. Keep taking all precautions until you are fully vaccinated.
If you've been fully vaccinated:
You can resume activities that you did prior to the pandemic.
You can resume activities without wearing a mask or staying 6 feet apart, except where required by federal, state, local, tribal, or territorial laws, rules, and regulations, including local business and workplace guidance.
If you travel in the United States, you do not need to get tested before or after travel or self-quarantine after travel.
You need to pay close attention to the situation at your international destination before traveling outside the United States.

You do NOT need to get tested before leaving the United States unless your destination requires it.
You still need to show a negative test result or documentation of recovery from COVID-19 before boarding an international flight to the United States.
You should still get tested 3-5 days after international travel.
You do NOT need to self-quarantine after arriving in the United States.

If you've been around someone who has COVID-19, you do not need to stay away from others or get tested unless you have symptoms.

However, if you live or work in a correctional or detention facility or a homeless shelter and are around someone who has COVID-19, you should still get tested, even if you don't have symptoms.
Read more by clicking below:
CDC Recommendations for Fully Vaccinated People
Take a look at this diagram that outlines updated mask guidelines in vaccinated people vs. un-vaccinated people:
CDC Diagram: Choosing Safer Activities PDF
IMPORTANT: These guidelines do not apply to hospitals, medical facilities, and medical offices. We will continue to require masks to be worn by adults and children 2 years of age and older.
SUDDEN INFANT DEATH: In Connecticut, this is largely attributed to unsafe sleep environments and related family risk factors. Each year, on average, Connecticut loses 25 infants who have died in a sleeping environment that is outside of the guidelines supported by the American Academy of Pediatrics. There are certain measures that need to be followed such as placing an infant on their backs to sleep, firm bedding, removal of blankets, pillows and toys from the crib. It is also important to remember car safety seats, strollers, swings, infant carriers and nursing pillows, should not be used for routine sleep in the home. Please take a moment to read the attached fliers which have additional information and resources:
HEAVY METALS IN FOOD: We believe in eating healthy. There is concern about environmental toxins, such as arsenic, mercury, cadmium and lead entering our food supplies, including baby foods. Some foods have higher levels than others. It is important to have a good mix of fruits, vegetables, and grains from various sources. Until more information about metals in baby foods becomes available, experts say there's no need to get children tested. Tests that look at a child's hair for toxic metal exposure also are not recommended, since this type of testing is scientifically unproven and often inaccurate. Here are some great recommendations in reducing exposure to these heavy metals:
Healthy Children. Org: Heavy Metals in Baby Food
In Memoriam:
On Tuesday May 4th, we lost our dear friend Dr. Ferrin Holmes. He joined Dr. Wanerka at Branford Pediatrics and Allergy, as it was called back then, in 1986, with Dr. Sanyal and Dr. Alvino. Together they worked to build the practice we are all familiar with today. His mild mid-western charm was evident in his practice. His kindness was appreciated by families for decades. He was an avid reader and spent a great deal of time in the Branford town library. In fact, when he retired in 2010, we celebrated in the main reading room of the library! He was also a movie buff and enjoyed escaping in film. He would continue to visit us pre-COVID at the office. He always had a story to share which would make us smile at the very least, but mostly made us laugh. More importantly, he was a beloved father and grandfather. His two lovely daughters and 2 grandchildren will miss him the most and we wish them our sincerest condolences. Dr. Holmes was a trusted and beloved pediatrician. More than that, he was a cherished friend.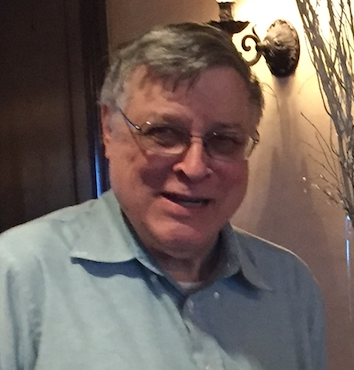 ---