Hooray for 2023! We greatly appreciate your patience while our computer systems were down for 2 weeks. Our IT company which hosts our servers, was compromised. Lucky for our practice, the information stored on our servers, was not affected. We patiently waited for a third party to verify this.
We are back to re-scheduling any appointments that were affected during that time. If you have not heard from us, kindly give us a call.
RSV-FLU-COVID
We have seen RSV, FLU, COVID over the last 3 months. The number of kids ill with each virus has peaked at various times. At present, the latest variant of COVID is the prevalent virus. It is even more contagious than previous strains. The symptoms and intensity of symptoms vary from person to person. We are still strongly advocating for children to be vaccinated against the flu and COVID even if they have previously contracted the viruses.
SCHOOL NOTES
During this school year, we have been inundated with requests for school notes for absences and we are unable to keep up with the volume. Our policy has always been to write excuse notes only for those patients who are seen for an appointment. We had made exceptions during the '21-'22 school year due to COVID. This will have to change due to the recent increase in requests for school excuse notes. We will be returning to our policy. We cannot write excuse notes for patients who have not been seen by us in the office or by telemedicine. We will continue to revise any notes previously written if needed, for extending return date due to prolonged symptoms. We apologize for any inconvenience this may cause our patients and families. This decision was necessary so our nursing staff can focus on returning medical phone calls and getting patients scheduled in a timely manner for their sick visits.
CANNABIS
On January 10th, Cannabis became available for recreational use for adults 21 years and older in the state of Connecticut.

CT Dept. of Consumer protection Announces Adult Use Cannabis Market Opening Date
It is important to emphasize to tweens and teens that cannabis is a product for adults. Smoking or Vaping Cannabis and eating THC containing edibles have detrimental effects on growing young minds.

healthychildren.org: Legalizing marijuana Not Good for Kids, AAP Policy explained
The American Academy of Pediatrics believe that adolescents should not use marijuana because of the short- and long-term effects such as:
· It interferes with judgment, concentration, reaction time and coordination in ways that can make youth more likely to get into car crashes or otherwise injure themselves while using it.
· The ways that it interferes with brain functions such as memory, attention and problem-solving can make it much harder for youth to learn and succeed in school.
· Contrary to what many people think, it can be addictive.
· Inhaling the smoke can cause lung problems.
· New research shows that marijuana use during adolescence and young adulthood, when the brain is going through many important changes, can lead to permanent problems with memory, learning and thinking.
· Youth who use marijuana regularly are less likely to finish high school or get other degrees, more likely to other drugs and more likely to try to commit suicide.
It is important that we do everything possible to prevent them from using it or being exposed to it:
· Parents, relatives, and other caregivers should not use marijuana around children, both for safety reasons and role-modeling reasons.
· Banning any marijuana marketing to youth.
· Making sure that there is child-safe packaging and other safety measures.
· Creating public health campaigns like the ones we've used against smoking.
healthychildren.org: Marijuana What Parents Need to Know
As adults you have the right to choose to use marijuana. We just ask you to use extreme caution around young children and adolescents. Since the legalization of marijuana there has been a steep increase in accidental ingestions.
NPR.org: Young Children Accidentally Ate Weed Edibles in 2021 Study Finds
A study in the journal Pediatrics, found that in 2017, there were just over 200 reported cases of accidental consumption of cannabis edibles by children under six. In 2021, the number shot up to 3,054 – an increase of 1,375%.
aap.org Pediatrics journal: Pediatric Edible Cannabis Exposures and Acute Toxicity:2017-2021
Marijuana edibles often contain a large amount of THC that can produce symptoms of intoxication in a child and the packaging can often look like regular sweets and snacks. This "copy cat" packaging can often make it difficult for an adult to distinguish between a marijuana edible and the real product and impossible for a child to distinguish between the two. Anything on a package that references "medicated" is a sure sign that it contains THC.
The packaging is very deceptive and looks like regular foods. Here is a picture of Life Saver Gummies: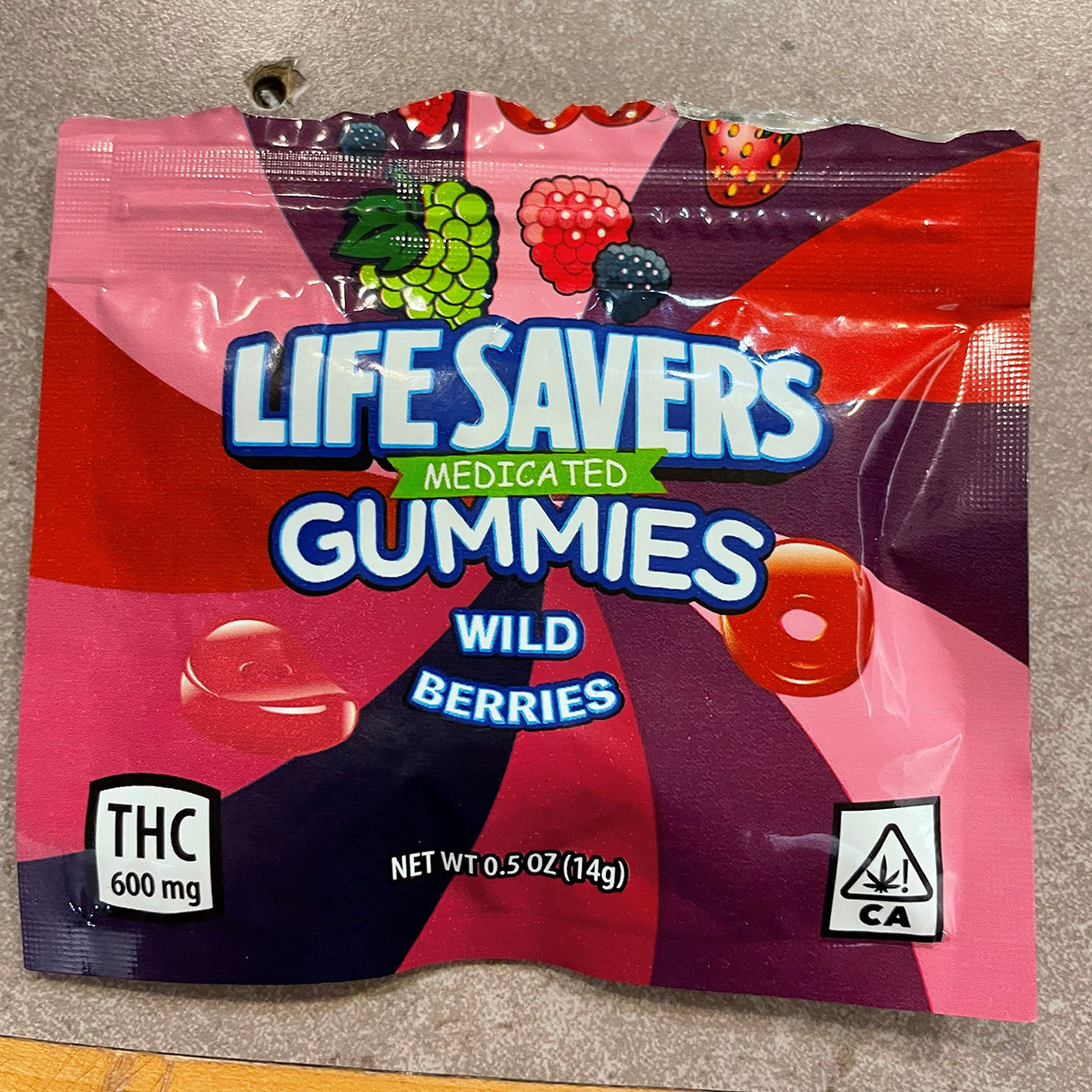 This website link goes over the signs and symptoms of marijuana intoxication in children and teens. Please remember that the peak effects are not seen for 3-4 hours. PLEASE CALL POISON CONTROL IMMEDITELY! (800) 222-1222.
healthychildren.org: Edible Marijuana Dangers: How Parents Can Prevent THC Poisoning
NEWSLETTER UPDATE
Going forward as of this year, will be writing our newsletters 4 times a year. IF there is something emergent or important we need to relay, we will send out an emergency email blast. Thank you for being part of the Branford Pediatrics and Adolescent Medicine community!
---